Mini Breeze Tabletop Retractable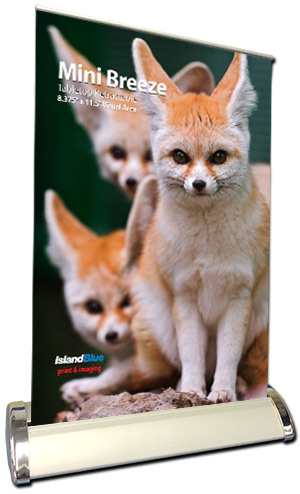 ---
This little powerhouse is perfect for point of sale and informational displays, being small, lightweight and easy to display nearly anywhere.
The Minibreeze is available in two sizes and retracts completely into the base cassette for storage or transport.
Print

Full colour with solvent inks
Full bleed allowed
Single sided

Sizes Available

Print Size: 8.375" x 14"
Visual Size (display): 8.375" x 11.5"

Print size: 11" x 24"
Visual Size (display): 11" x 17"

Finishing

Installed into stand cartridge

Like to get some more information? Feel free to contact us via the form below and one of our representatives will be happy to get back to you to discuss your specific project.