CAD Plotting & Printing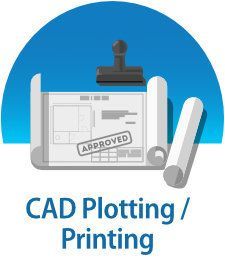 Black & White and Full Colour Prints
Island Blue offers Architects, Engineers, Building Designers and Contractors superior quality digital bond prints in B&W and Full Colour of building drawings, plans and specifications. We understand the importance of quality prints and meeting the delivery deadlines of the AEC market.

Project Addendum Prints
To keep track of major drawing changes throughout a project, addendums for both drawings and specs can be printed on tinted bond paper in blue, green, yellow and pink.

Weatherproof Site Drawing Prints
Duracopy is the ideal print product for the use in the most extreme environments. The opaque synthetic paper is moisture repellent, tear-proof, heat stable and soil/dust resistant.

Presentation Print Services
For new building proposals, presentation drawings can be printed to heavier quality papers or directly to rigid substrates like Foamboard, Ultraboard or Falcon Board, a recyclable honey-comb card stock available in ¼ and ½" thickness.
Document Distribution
Island Blue can handle the distribution of your bid drawings and specifications for any type of project, big or small. This includes wrapping, labeling and delivery through local and out-of-own couriers.

Document Scanning
We can scan documents up to 36″ wide and save them as PDF/JPEG files in the resolution required. Depending on your needs, we can suggest the best scanning method to complete your archiving project.

Custom Engineering Graph Paper Pads
4 colour Graph Paper Pad sizes: 4x4, 5x5, 8x8, 10x10 improve the look of proposals and other visual business communication... all 100% customized to your needs. Light blue grids plus a slightly darker grid line printed every inch helps you sketch and draw easier and with more accurately on custom quadrille layout. Available in letter-size 8.5 x 11.

Orders/Quotes: repro@islandblue.com