Business Cards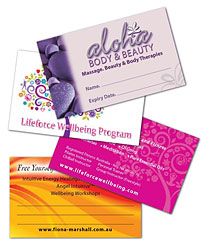 ---
One of the best marketing tools around, business cards are simple but effective advertising for your company. They reflect your business and your image and should always be ready to hand out to prospective clients or people you need to stay in touch with.
Business cards are are a critical part of business and Island Blue is pleased to provide this staple of communication.
Stock

130# Silk White Card
130# Gloss White Card

Print

Full colour, digital inks, single or double sided, full bleed is not a problem.

Options

• Magnetic Business Cards
• 10mil/14mil Synthetic (Plastic)
• Round Cornering 1/2/3/4 Corners
• UV Gloss Coating
• Gloss or Velvet Touch Laminating

Like to get some more information? Feel free to contact us via the form below and one of our representatives will be happy to get back to you to discuss your specific project.