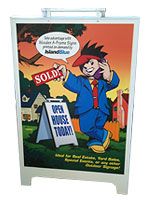 "A" FRAMES - WOOD
Wooden "A" frames are a great way to attract customers into your space or event, especially foot traffic. Made of durable material and smooth surfaced and sealed, these models come complete with your graphics printed directly to the face sides. Heavy enough to withstand a sudden gust of wind, the product also comes assembled with an easy to carry handle.
NEW!: A removable and repositionable chalk surface can also be applied, allowing you to change your mind and ideas as often as you'd like. Please inquire for details using the contact form below!
Stock

1/2" MDO Board, cutout at bottom

Print

Full colour, UV inks rated for outdoor usage and lightfastness. Graphics are printed direct to board surface, full bleed is not a problem.

Additional

While graphics can be printed to full bleed on the surface, please do not place any text or critical design elements closer than 3" from the bottom due to the curved cutout.

Like to get some more information? Feel free to contact us via the form below and one of our representatives will be happy to get back to you to discuss your specific project.