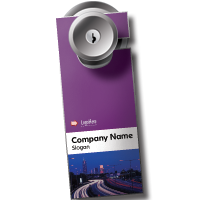 Door Hangers
Door Hangers, printed on a card stock, single or double sided are generally used to distribute print advertising to residences. Real estate agents may use to showcase a home they recently sold in the neighborhood. Also used in the hotel or tourism industry to promote food menus or as a communication tool of special functions to guests or conference delegates.
Stock:Printed on 14pt. card stock coated 2 sides
Trim Size: 8.5" x 3.375"
Bleed Size: 8.75" x 3.68"
Print:Full colour, digital dry inks printed single or double sided
Like to get some more information? Feel free to contact us via the form below and one of our representatives will be happy to get back to you to discuss your specific project.