Halogen Spotlight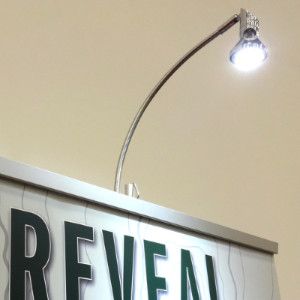 Banner stand lighting is a valuable addition to any banner stand display, especially those being used in a trade show environment. Low voltage banner stand spotlights help to illuminate your graphics and make your display stand out among the crowd.
Trade shows are not usually well lit, so displays without extra lighting tend to look dull compared with those that have banner stand spotlights. That makes banner stand lighting a very cost effective method of bringing attention to your displays.
This stylish lightweight 50 watt Halogen banner stand spot light is designed to fit all single sided retractable banner stands, clip attaches the spotlight to banner stand support pole. Fully adjustable head angles and pivots for precise adjustment.
Like to get some more information? Feel free to contact us via the form below and one of our representatives will be happy to get back to you to discuss your specific project.