Bookmarks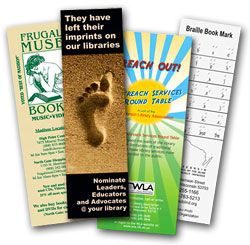 A versatile piece of mobile advertising - from the traditional usage of saving your place in a book they can also be used to promote your business, advertise sales or upcoming events or even give product information on the services you supply.
Stock

111# Silk White Card
111# Gloss White Card

Print

Full colour, digital dry inks, single or double sided, full bleed is not a problem. Specialty Embellishments with Gold and Silver digital dry inks.

Additional

NOTE: As bookmarks are quite restricted in width, be careful in layout to keep any text at least 1/8" from the cut edge to prevent clipping during finishing.

Like to get some more information? Feel free to contact us via the form below and one of our representatives will be happy to get back to you to discuss your specific project.