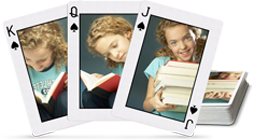 Custom Playing Cards
Create your own customized personal playing cards. Choose a common photo for the backside and insert separate photos into each of face cards; Jack, Queen and King.
A great gift item to remember that special trip, family celebration or special event and for businesses, a creative promotional product that might help seal the "deal".
Our deck of cards is printed on 10.4mil water-resistant durable plastic.