Incorrect Bleed
This is the most common mistake to make when submitting artwork to a printer. Incorrect (usually no) bleed causes problems in the finishing stage, as even the most accurate machine has some "drift" as the paper goes under or over the blade. This means the finished product will end up with white paper showing at the edges on some or all sides which just doesn't look good.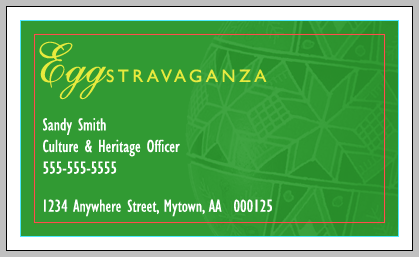 Full image background but bleed has not been built into the document. The image/pattern simply stops at the edge.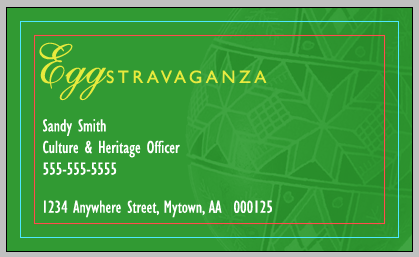 The background color/image have been extended past the physical edge of the piece. We ask for 1/8" or .125" but check with your printer for the requirements as certain machines/types of printing do not require bleed while others may need more.
When the item is trimmed to the final size, the blades will separate colour from colour and any drift will not be apparent.
---
As a visual aid, the red box is the 'safe zone' inside the card where all non-bleed text or graphics need to be placed. As a visual aid, the blue box is the edge of the finished piece or the final size. This is often called the 'trim line'.