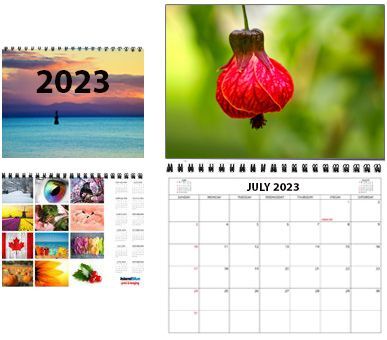 Welcome to Island Blue's Calendar Builder Page
Showcase your precious memories with a personalized calendar from Island Blue. Add your personal photos and build your very own calendar. Perfect for the holidays, as gifts, for businesses.
So take those images of your kids, pets, clubs and turn them into a personalized calendar! Give the gift they'll enjoy all year long.
SPECIFICATIONS:
8.5" x 11" Wallmount, 12 Month Calendar.
PAPER STOCK: 111 LB. SILK COVER
STOCK
Black Twin Loop Binding
For custom calendar creation, please contact one of our service reps...
Start Building Your Calendar Now!
1. Provide the quantity of calendars you would like to order.
2. Click on the blue box that reads "Add Item(s) to Cart" This will take you to the page where you can upload your images.
3. Upload your images
4. After uploading your images, click on the "Update Preview" to view your digital. If it looks the way you want it, click on the "Add to Cart" button that will be on the lower right hand side of your screen. If you need to go back and change something you can! You'll receive notification of your order once it is received.
TIPS!
If you're monthly images are showing white borders, try clicking on the "Fit Width" button below each month where you added your pictures. This will change it to "Fit Height"